180 gr, transparent blue vinyl
Limited edition, 500 numbered copies only
24/96 wav download of the album is coming as gift along with the cover
The recordings made at the Down And Up stereo and surround tours during 2012 – 2014. This is the first episode of the Live in Blue LP, 2CD, DVD, Blu-ray and five disc box series. Each release will contain minimum one track is not can be found on the other discs.
Djabe in 2012 in connection with the Down And Up album release started a concert series in Hungary, Europe and Canada. The tour lasted until the summer of 2014. The gigs are often joined by friends of the band. Steve Hackett played guitar from Genesis, Gulli Briem of Mezzoforte added drums and percussion, living in New York the Canadian born saxophonist John Nugent (Tony Bennett, Ella Fiztgerald) completed the list of guests. The Miskolc concert on 10 November 2013 was particularly unusual because the Miskolc Symphony Orchestra and Sára Kovács on flute also contributed to the program. The first item in the Live in Blue releases, the vinyl LP represents each stage line-up of the all the gigs. You can hear the classic line-up of Djabe (Barabas, Banai, Égerházi, Ferenc Kovács, Zoltán Kovács) in Los Sipos from the Miskolc concert and Life Spirit from Óbuda. This composition is taken from the Forward to the album, and will not appear on the other Live in Blue discs. Steve Hackett with Djabe can be heard on the Ace of Wands from Miskolc. Jacuzzi and the Overnight Sleeper are also from Miskolc. Zoltán Kovács arranged and conducted the Symphony Orchestra. Sára Kovács played flute and Steve Hackett acoustic guitar.
Djabe in 2013 at the Pecsa Music Hall recorded the rest of this LP, where Gulli Briem and John Nugent were the guest musicians. These pieces as two long medleys give an overview of the entire career of the band.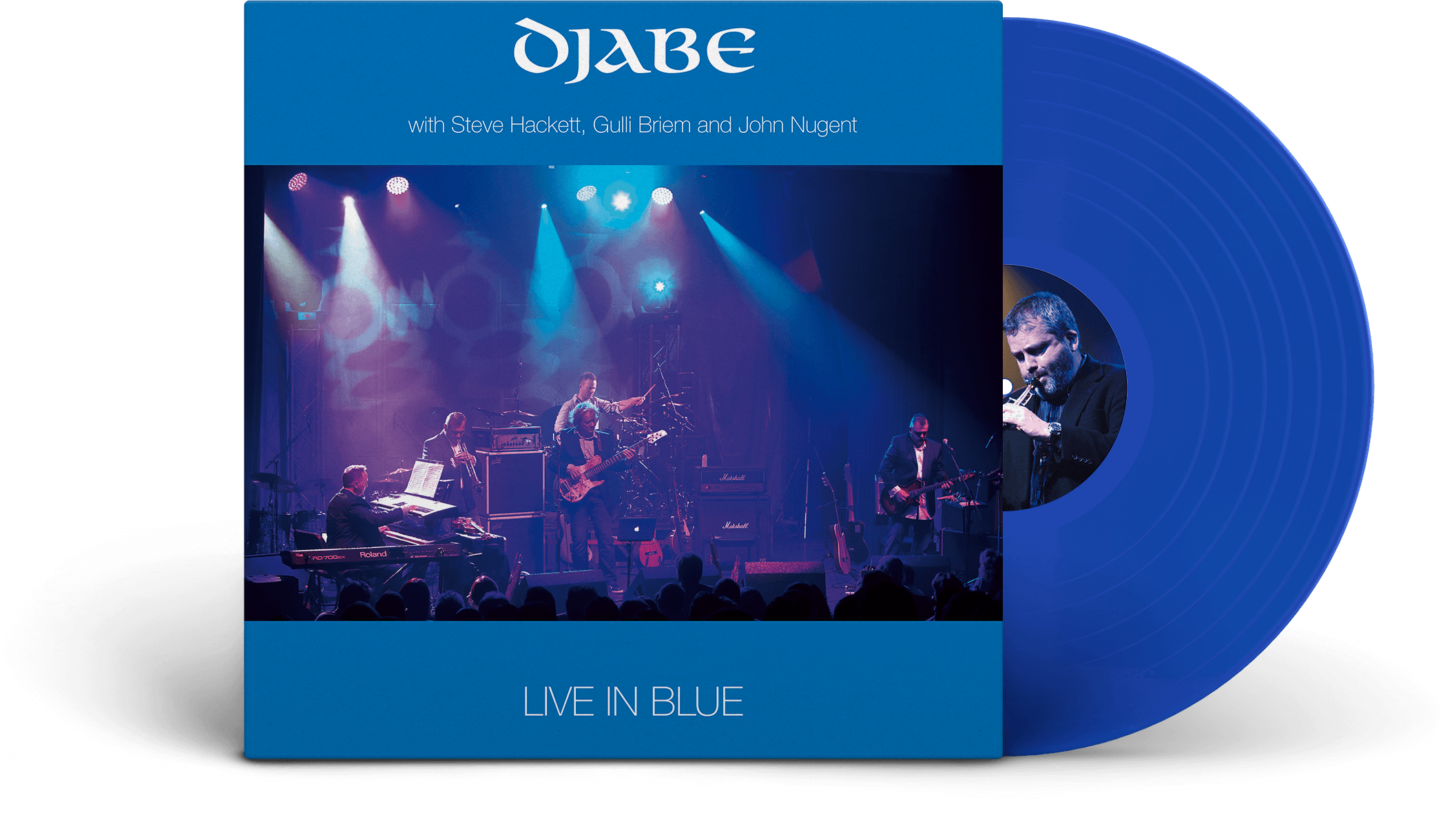 Musicians
Szilárd Banai – drums
Tamás Barabás – bass guitar
Attila Égerházi – guitar, percussion
Ferenc Kovács – trumpet, violin
Zoltán Kovács – keyboards
Gulli Briem – hang, djembe, shaker, drums
John Nugent – tenor and soprano saxophone
Side A
Indian Experience
End of a Beautiful Day
Hang Song
This is not America
Butterfly
House on the Hill
Los Sipos
Side B
Ace of Wands
Jacuzzi
Overnight Sleeper
Hortobágy at Winter
Clouds Dance
First Step
Distant Dance
Life Spirit
This release is available in GR1993 Records webshop.