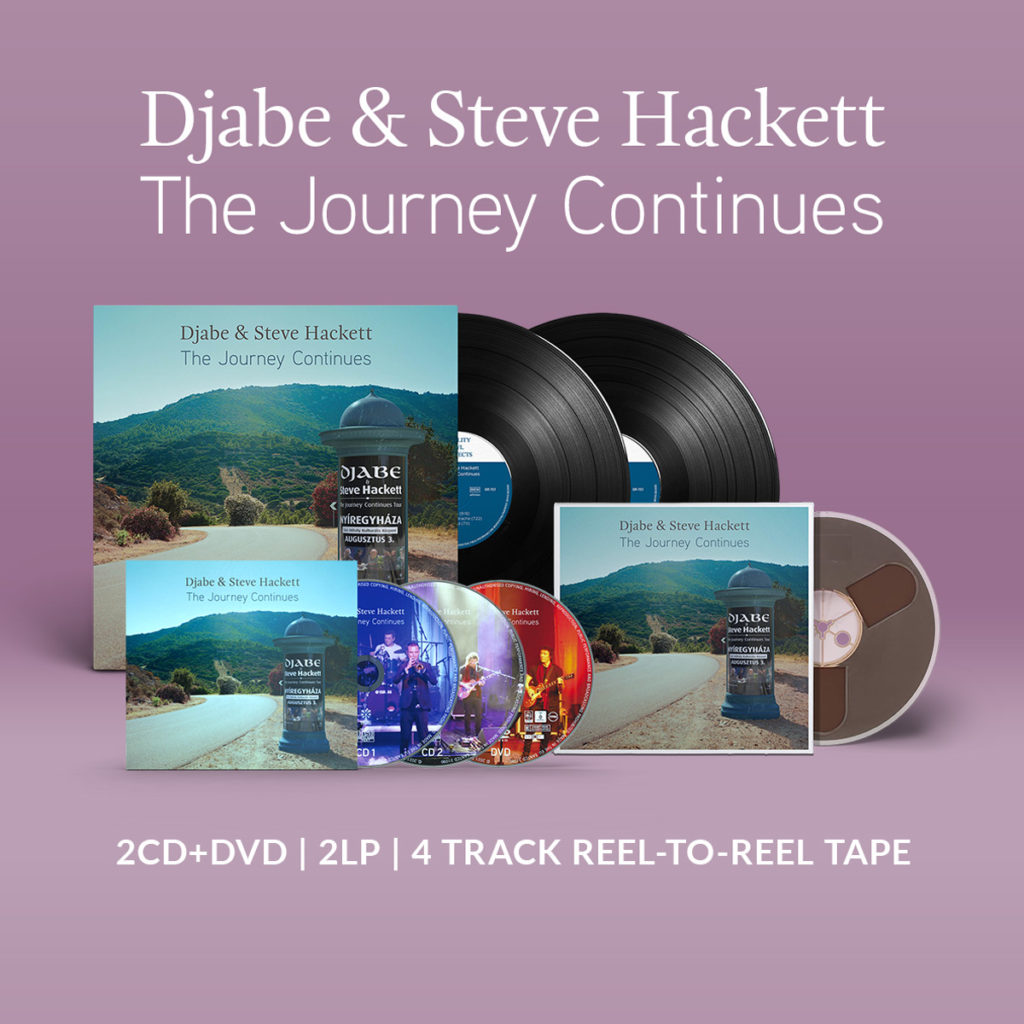 Djabe & Steve Hackett – The Journey Continues
New double live album released May 28, 2021
2CD/DVD, 2LP, 4 track reel-to-reel
The Journey Continues Tour in 2019 reached three countries in early August. The closing night performance was recorded in Nyíregyháza, Hungary. This show will be released on 2CD/DVD in May by the London-based Cherry Red Records.
The double vinyl version will be released by Quality Vinyl Projects. 4 track ree-to-reel as a third option to order a physical copy of the show.
Attila Égerházi talked about the set-list of this tour: "During the compilation of the 2019 concert set-list our common creation, the pieces of Life Is A Journey, formed the backbone of the show, complemented in healthy proportions by compositions by Djabe, Steve Hackett and Genesis. We have always strived to be able to show our audience something new, so once again now we have included compositions that we have never played together. Such as one of my personal favourites, Hairless Heart from Genesis's Lamb Lies Down On Broadway opus. For the first time in Djabe's repertoire, we played the New Words with Steve, while Reflection Of Thiérache was last on the set list in 2008. This was the first composition in which Steve contributed to a Djabe album, back in 2003. Tears For Peace is also almost new, as we only played it live a few times after its 2012 release. Castelsardo At Night premiered on this tour live from the album Life Is A Journey.
The performance was excellent, Steve wrote in his blog after the concert:
"It went well, Djabe's extraordinary musicianship was appreciated and everyone was in great spirits."
The 8 panel digipak houses 3 discs, and 24-page illustrated booklet with quotes from Steve Hackett & Djabe.
The NTSC / Region Free DVD in this set also includes the bonus features the tracks 'In That Quiet Earth' and 'After Limoncello', recorded in St. Veit, Austria in 2018 and 'White Bears', recorded in Washington DC in 2019.
Musicians
Steve Hackett – guitar, vocal
Tamás Barabás – bass guitar, vocal
Attila Égerházi – guitar, percussion, vocal
Áron Koós-Hutás – trumpet, flugelhorn
János Nagy – keyboards
Péter Kaszás – drums, vocal, percussion
Gulli Briem – drums (After Limoncello)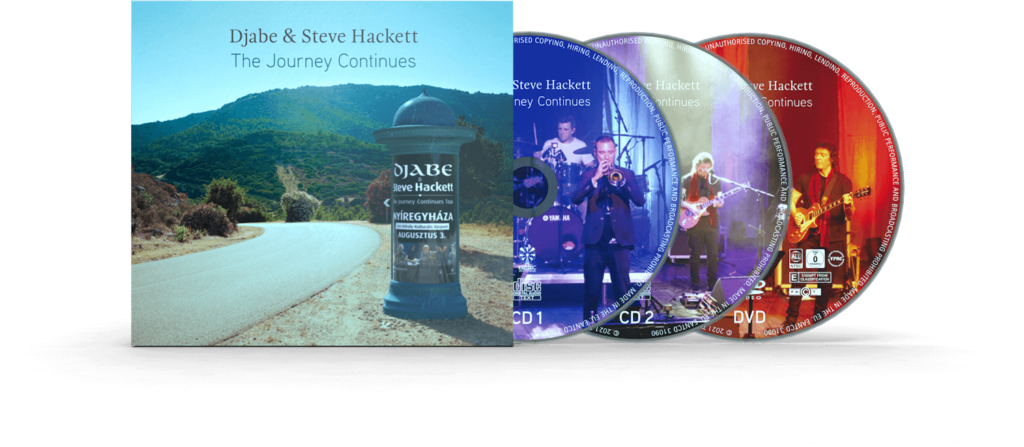 Disc One – CD1:
1. New Words
2. Reflections Of Thierache
3. Life Is A Journey
4. Castelsardo At Night
5. Buzzy Island
6. Tears For Peace
Disc Two – CD2:
1. Last Train To Istanbul
2. Golden Sand
3. Hairless Heart
4. Firth Of Fifth
5. Gallop
6. Lava Lamp
7. Los Endos
Bonus Tracks:
8. In That Quiet Earth
9. After Limoncello
(Recorded In St.Veit, Austria, 2018)
Disc Three – DVD:
1. New Words
2. Reflections Of Thierache
3. Life Is A Journey
4. Castelsardo At Night
5. Buzzy Island
6. Tears For Peace
7. Last Train To Istanbul
8. Golden Sand
9. Hairless Heart
10. Firth Of Fifth
11. Gallop
12. Lava Lamp
13. Los Endos
DVD Extras:
1. In That Quiet Earth (St. Veit, Austria, 2018)
2. After Limoncello (St. Veit, Austria, 2018)
3. White Bears (Washington Dc, Usa 2019)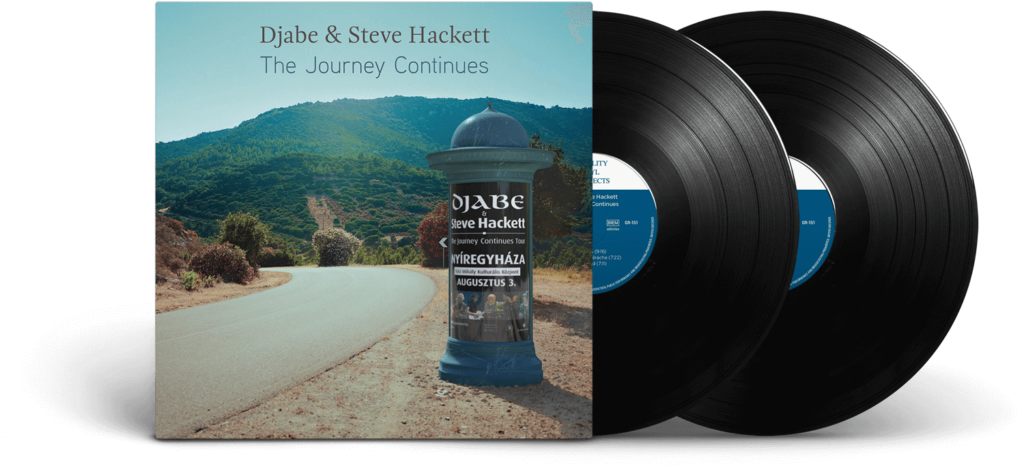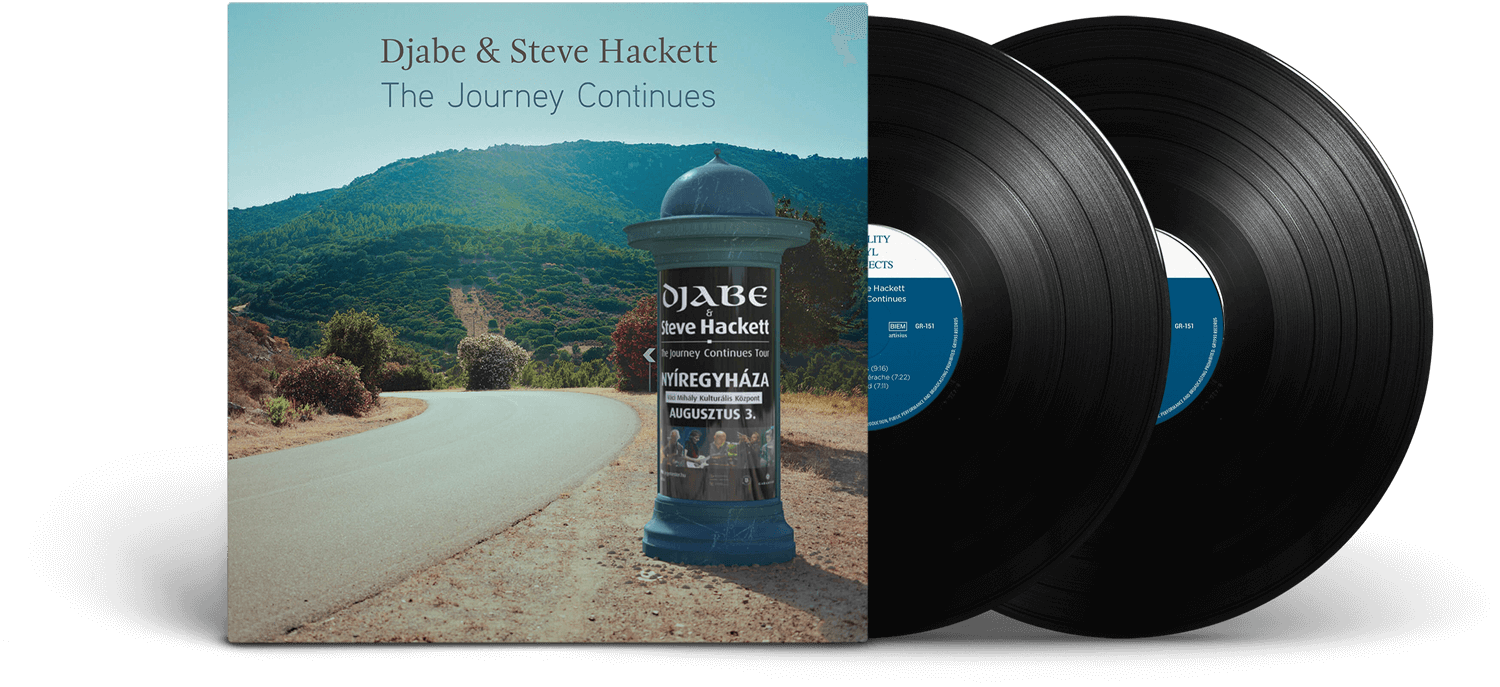 Side A
New Words
Reflection Of Thiérache
Buzzy Island
23:49
Side B
Life Is A Journey
Castelsardo At Night
Tears For Peace
23:55
Side C
Last Train To Istanbul
Golden Sand
Hairless Heart
Firth Of Fifth
Gallop
24:24
Side D
Clouds Dance
After Limoncello
Los Endos
25:00
The Journey Continues releases are available at the Djabe and GR1993 Records webshops.